free ticket
news
*/ What we saw at the 14th Athens Digital Arts Festival
June 18, 2018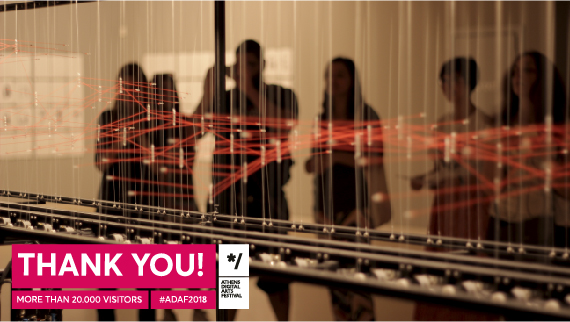 The 14th edition of Athens Digital Arts Festival, the Greek representative in the international digital arts scene, has ended, and we would like to thank everyone who participated!
Under the theme of Singularity Now, ADAF 2018 explored the upcoming Technological Apocalypse through art, science and technology, welcoming more than 20.000 people, at Megaron – The Athens Concert Hall, between 24 and 27 of May. Moreover, its activities expanded at the Athens International Airport "Eleftherios Venizelos", Syntagma Metro Station and the Historical Center of Athens.
More than 300 artists from 60 countries recited their tales from the event horizon. Thus, #ADAF2018 invited the audience to imagine the future, offering a unique experience. In this framework, the Festival presented interactive installations, web art – powered by COSMOTE Fiber, VR works, digital image, AI works – powered by Huawei, video art and animation screenings, presentations of international festivals and audiovisual performances, workshops and talks.
This year, as ADAF integrated at the program "PEPP – Regional Operational Program ATTICA 2014-2020 – European Regional Development Fund – With the support of Greece and the European Union", it has been given the chance to attract more and diverse visitors due to its free entrance, to expand its audience through multiple acts and to develop our activities during the year. Furthermore, it presented international festivals with exclusive content and guests, such as Animafest Zagreb (Croatia), Festival Internacional de la Imagen (Colombia), KIKK Festival (Belgium), Osmosis Audiovisual Media Festival (Taiwan), Mirage Festival (France) and more. In collaboration with the international digital platform The PhotoPhore, the Festival presented the special screening "TECH BREAK". In addition, ADAF cooperated with artistic community Sedition Art, presenting a video art screening and bringing the audience one step closer to digital arts.
For four days, ADAF's visitors lived amazing experiences, one after the other! The visitors had the chance to dance with exoskeletons with Inferno by Louis-Philippe Demers and Bill Vorn, to participate at the first Led Mapping Tourrnament with Video Mapping Mexico, to get their portrait done by three robots with Human Study #1 – 3RNP by Patrick Tresset, they sang sad ballads along with robots with the artwork of What do machines sing of? by Martin Backes and explored the Mechanical Relationships of Patrycja Maksylewicz and Mariusz Front. Moreover, at the VR lounge area they traveled to dream places where space and time are distorted. Finally, every single day was completed with the impressive and pioneering audiovisual performances that were transporting the audience to environments where modern technology was dominating at its most advanced form, showing to the public the ways that the future will be even more exciting.
The closing of Athens Digital Arts Festival brought a unique Techno Party that had never happened before at Megaron, Women in Techno_Logy! Jokasti Nek, RENA, DJ Fo – Fofi Tsesmeli, ANNA V., transformed the Banquet Hall to the hottest dancing venue of the city, with their stupendous beats.
We would like to thank you all for participating and supporting this year's edition and we are looking forward to seeing you back again in Athens Digital Arts Festival 2019 with the promise of an even more complete experience.
Stay tuned for ADAF's summers acts!
Click here to see the festival in photos
*/ Participation: 4.237 artists' submissions / 350 artists / 60 countries
*/ Public attendance: more than 20.000 people
*/ 14th Athens Digital Arts Festival | 24 -27 May 2018
Main Venue
Megaron – The Athens Concert Hall
Parallel Actions
Athens International Airport, "Eleftherios Venizelos"
Syntagma Metro Station
Historic Center of Athens