free ticket
events
Ion Hole
Thu 24

10:00-23:00

Fri 25

10:00-23:00

Sat 26

10:00-23:00

Sun 27

10:00-23:00
The Exhibition Hall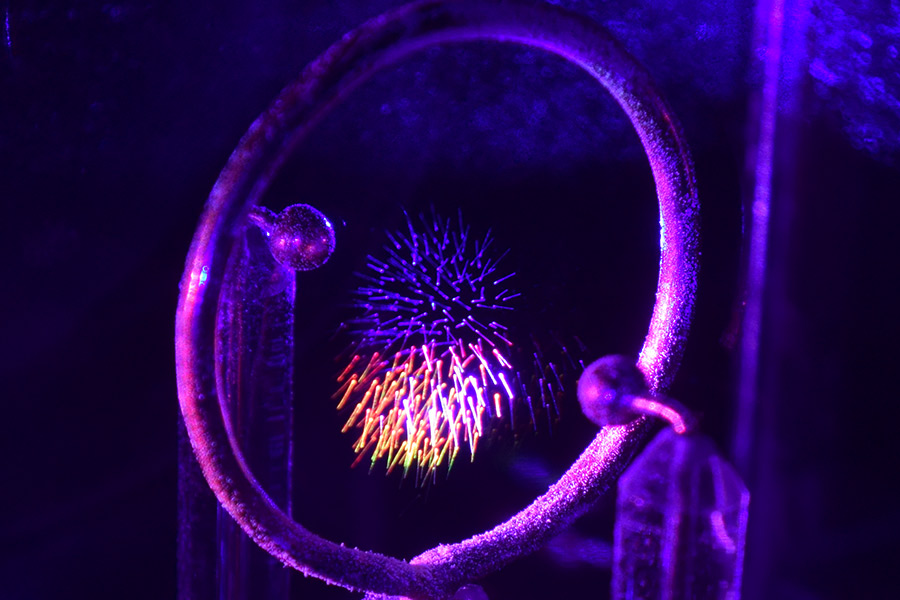 Based on a ring-shaped Paul trap, Ion Hole probes the subtle interactions between coherent light, electrodynamically suspended matter, and nearly negligible gravitational forces. Inside the trap are ionised lycopodium spores that repel one another while being simultaneously pushed towards the center of the trap by alternating electric fields. Consequently, the spores self-assemble into an oscillating latticework known as a Coulomb crystal. By means of laser illumination, a large-scale projection is created, magnifying the spores' ceaseless orbital dynamics.
Dmitry Gelfand, Evelina Domnitch (RU, BY)
Dmitry Gelfand (b.1974, St. Petersburg, Russia) and Evelina Domnitch (b. 1972,Minsk, Belarus) create sensory immersion environments that merge physics, chemistry and computer science with uncanny philosophical practices. Current findings, particularly concerning wave phenomena, are employed by the artists to investigate questions of perception and perpetuity. The duo has collaborated with numerous scientific research facilities, including LIGO (Laser Interferometer Gravitational Wave Observatory), the Atom Institute (TU Vienna), and the European Space Agency. They are recipients of the Japan Media Arts Excellence Prize (2007), and five Ars Electronica Honorary Mentions (2017, 2013, 2011, 2009 and 2007).