free ticket
events
Eden
MC 3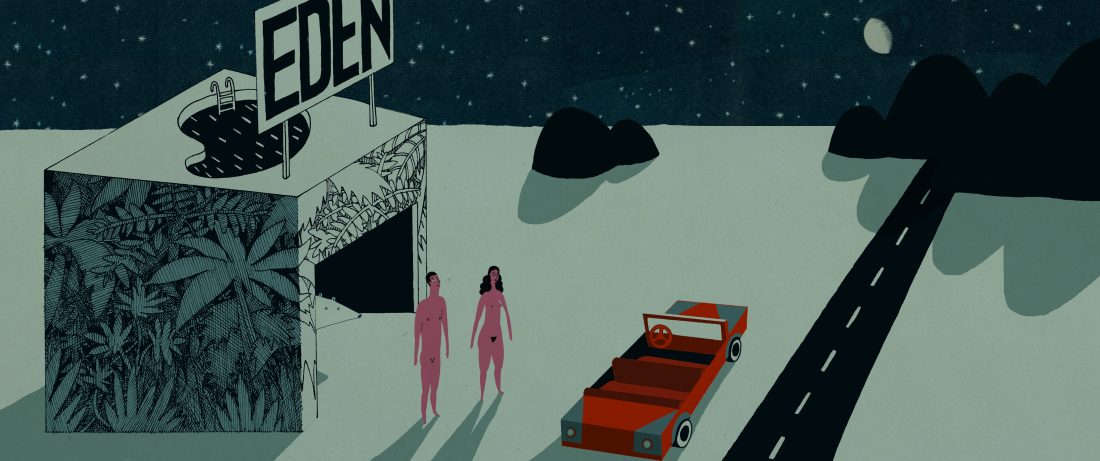 E and A are bored to death in the Garden of Eden. One night, they run off in God's cabriolet. Early in the morning, God notices their absence. Furious, he summons Dinosaur, his henchman, and sends him to get the fugitives.
E and A eventually reach the city, ready to live big! But Dinosaur is after them and soon finds them in a restaurant having a mountain of burgers. Then, slowly, he pulls a gun out of his pocket and shoots.
Julie Caty (FR)
Julie Caty is a French designer, illustrator and animation director. After her graduation from the Ecole Natinale Supérieure des Arts Décoratifs in 2006, she joined the Babel Caucasus project and worked with Mylène Sauloy (documentary filmmaker and great reporter) until 2008. In 2009 she moves into the Creuse and creates an associative silkscreen workshop which hosts several projects of independent art-book publishing and develops animations around the practice of silkscreen. In collaboration with local structures (cultural associations, radios, recycling centers, and Regional Natural Park among others), she invents plastic projects and actions to educate people about graphic arts, printed images, books and environmental issues. In parallel, she designs posters for documentaries, album covers and music clips. Eden is her first animated film.