free ticket
events
Equilibrium
Thu 24

10:00-23:00

Fri 25

10:00-23:00

Sat 26

10:00-23:00

Sun 27

10:00-23:00
Nikos Skalkotas Foyer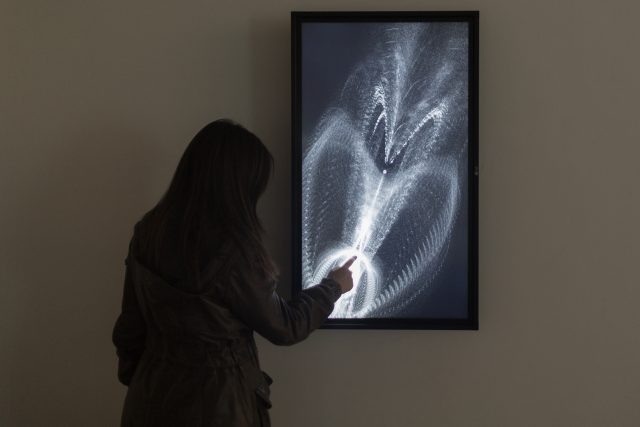 'Equilibrium' is an interactive abstraction, a data dramatization, of the delicate balance in which an ecosystem hangs – a fragile structure, a snapshot of a moment of harmony, amidst chaos and disorder.
The project was inspired during an expedition to Madagascar with the Unknown Fields Division following the trail of global resource extraction into the heart of one of the most unique ecosystems on the planet, exploring the endangered rainforests, mining landscapes and wild west sapphire towns. The country is a popular hotspot for tourists and wildlife lovers, rich in biodiversity with many endemic species and a unique ecology. It's rich in resources desired by the affluent world such as rosewood, gold, sapphire, nickel and cobalt; and exploited by lawless industries. While the country's residents live in extreme poverty – with a tradition of unsustainable slash-and-burn subsistence farming – corrupt battles ensue for political power. The land rich with these different types of resources – ecological, financial, social, political or simply subsistence – is pulled apart from all directions, based on the shifting balance of these values.
Memo Akten (UK)
Memo Akten is an artist working with computation as a medium, exploring the collisions between nature, science, technology, ethics, ritual, tradition and religion. Combining critical and conceptual approaches with investigations into form, movement and sound, he creates data dramatizations of natural and anthropogenic processes. Alongside his practice, he is currently working towards a PhD at Goldsmiths University of London in artificial intelligence and expressive human-machine interaction. His work has been shown and performed internationally, featured in books and academic papers; and in 2013 Akten received the Prix Ars Electronica Golden Nica for his collaboration with Quayola, 'Forms'.