free ticket
events
Hash2Ash
Thu 24

10:00-23:00

Fri 25

10:00-23:00

Sat 26

10:00-23:00

Sun 27

10:00-23:00
Dimitris Mitropoulos Foyer & Allegro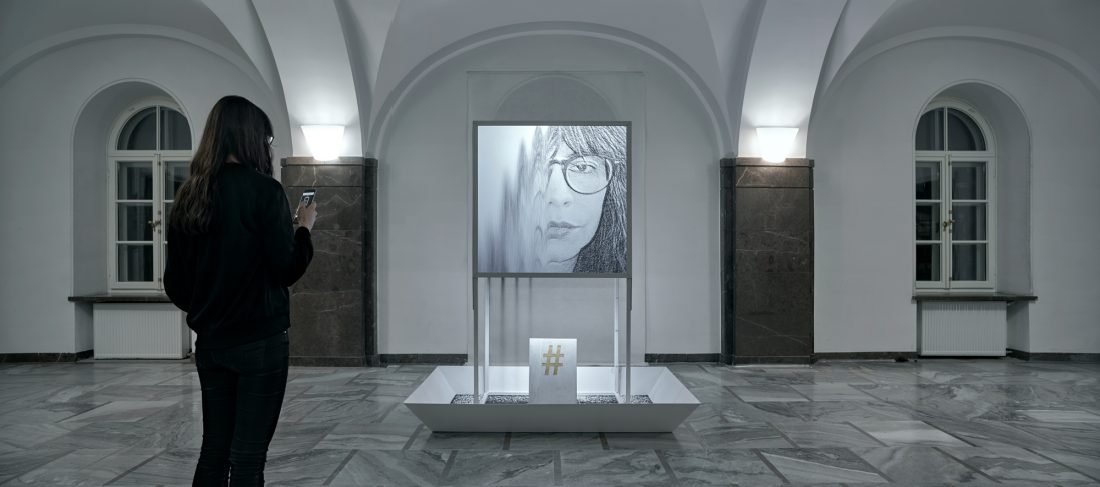 "Interactive installation that turns selfies into pile of ash, created for National Ethnographic Museum in Warsaw as a part of TEEN AGE exhibition.
"We don't want our digital lives to fade away.
If we want to preserve them, we need to make sure that the digital
objects we create today can still be rendered far into the future"
– Vint Cerf, former vice president of Google
Installation touches on the themes of selfie-culture, and the fear of permanently losing the digital records of our lives due to technical failures, impermanence of data storage, or simply because of the obsolescence of the old digital file formats. Even with such compulsive overproduction of the images of ourselves we might end up with nothing but the blank memories of our past. Even the data on ourselves will eventually fade away…
The installation consist of the display that prompts you to take a selfie on your phone, which it renders in digital particles on its large 1×1 meter screen. Then a moment later, your face scatters and falls apart and the real black gravel starts to fall at the bottom of the screen in perfect synchrony with the digital simulation. Gradually a dark mound builds up at the foot of the construction". (https://pangenerator.com/projects/hash2ash/)
Curators of the project: Anna Grunwald, Beata Kuracińska
Designers of Installation: panGenerator Group (Jakub Koźniewski, Krzysztof Goliński, Piotr Barszczewski i Krzysztof Cybulski), www.pangenerator.com, PanGenerator
Project team – Greece' 2018: Anna Grunwald, Marta Czerska, Justyna Dominiak, Angelika Dziurawiec, Anahita Rezaei, Mariusz Pieńkowski, Mariusz Horoś
Project realized by the National Ethnographic Museum in Warsaw in partnership with the Athens Digital Festival in Greece in 2018 thanks to funding from Mazowieckie Voivodeship Self-government.
Pangenerator (PL)
PanGenerator is a new media arts & design collective based in Warsaw, Poland. Since 2010 the group creates unique works that explore the new means of expression and interaction through new media and technology. Their projects range from large scale interactive installations for museums and festivals to the novel musical interfaces and tiny wearables. PanGenerator artworks were presented at such events as Ars Electronica, DMY, Milan Design Week, Lodz Design, Pause Fest, Node Festival, WRO media art biennale, Warsaw Autumn and many others.
In 2016 their installation "Quantum of Peace" for Warsaw Rising Museum has been awarded with the Golden Lion in Design category at the famous Cannes Lions Festival.